Tourism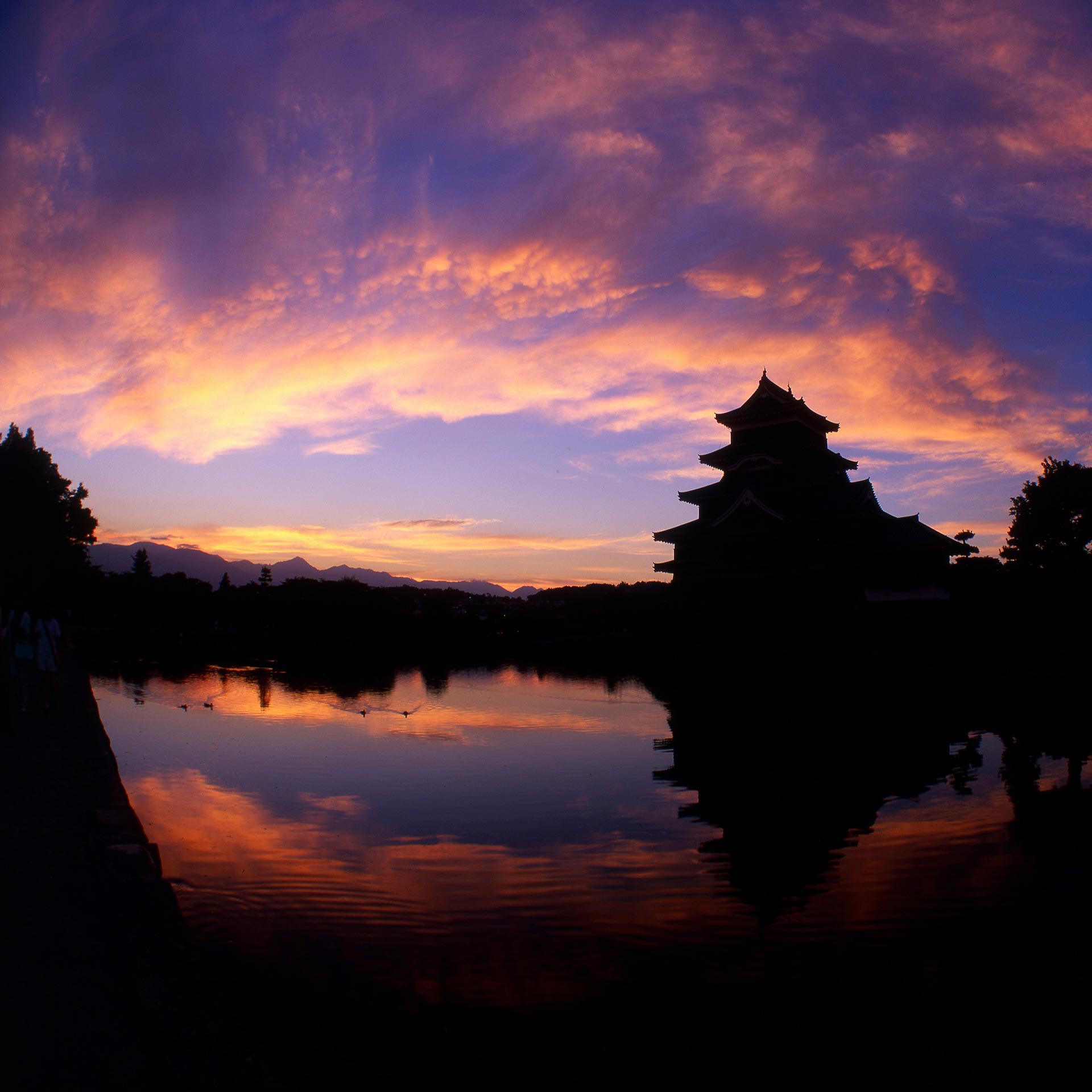 See the Sights in Matsumoto
Matsumoto Hotel Kagetsu is located just a 5-minute walk from Matsumoto Castle, a national treasure. In the vicinity of the hotel, you will find Nakamachi Street and Nawate Street, where rows of traditional storehouses with stucco walls convey the nostalgic feel of an ancient castle town. We recommend you take a stroll here to get a glimpse of what Matsumoto is about.
Matsumoto Castle(national treasure)

Matsumoto Castle is designated as a national treasure and is Japan's oldest castle of its kind, with a castle tower consisting of five tiers and six stories still standing today. The contrast of black and white against the mountains of Japan's Northern Alps is breathtaking.

Approx. 5 minutes on foot from the hotel

Nawate Street and Nakamachi Street

Nawate Street is home to many stylish miscellaneous goods shops and is bustling with tourists. Nakamachi Street is a shopping street lined with many traditional storehouses made of stucco.

Approx. 5 minutes on foot from the hotel

The Former Kaichi School

This schoolhouse was erected in 1876 and features a design by master carpenter Seiju Tateishi, making it one of the leading examples of pseudo-Western-style architecture in Japan. In 1961, it was designated as an important cultural property of Japan, and in 2019 it was designated as a national treasure.

Approx. 10 minutes on foot from the hotel

Matsumoto City Museum of Art

The front of the museum features "Maboroshi no Hana", a large sculpture by artist Yayoi Kusama. The site is currently closed for renovation work. It is slated to reopen after renovations in late April 2022.

Approx. 3 minutes by car from the hotel

Yohashira Shrine

Four deities are enshrined here, with locals referring to the shrine as "Shinto," after a festival of the same name. The area has been gaining attention as a "power spot" with spiritual energy, with countless visitors from within and without Japan coming to pay their respects.

Approx. 4 minutes on foot from the hotel

Fukashi Shrine

This site enshrines Suwa Myojin, a deity of war and martial arts, as well as Tenjin (Sugawara no Michizane), a deity of scholarship. There are many festivals and rituals that are beloved by locals.

Approximately 5 minutes by car from the hotel
A Journey of Discovery with Matsumoto Folk Craft
Folk craft town Matsumoto, contains several shops where local folk craft furniture continues to be used. Please enjoy a tour through Matsumoto and experience for yourself the meaningful local folk craft, the result of years of everyday use.
Chikiriya

This longstanding folk craft shop on Nakamachi Street was opened by Taro Maruyama, who also established the Matsumoto Folk Art Museum. This famous shop has many loyal fans who come from around Japan to see the pottery, dyed goods, baskets, and other items.

Approx. 5 minutes on foot from the hotel

Shizuka

This casual restaurant has a unique interior design with a folk craft style and private rooms. They offer set meals and a la carte dishes made with local Shinshu ingredients.

Approx. 3 minutes on foot from the hotel

Matsumoto Folk Art Museum

This museum was independently opened by Taro Maruyama in 1962 and features a collection of excellent folk art. The museum contains a collection of 6,800 ceramic, lacquer, and glass pieces on display.

Approx. 10 minutes by car from the hotel

Folk Craft Showroom

This showroom contains a permanent display of over 400 pieces of Matsumoto folk craft furniture. The site displays and sells a variety of authentic handicraft goods, such as vessels and fabrics, collected from around the world.

Approx. 5 minutes on foot from the hotel
See the Sights in Shinshu
Shinshu is surrounded by mountains. Matsumoto City, located in the middle of the Shinshu region, has good access to beautiful mountains, a brisk, refreshing plateau land, and quaint hot springs areas.
Kamikochi

*Must transfer to a bus or taxi at Sawando

Approx. 90 minutes by car from the hotel

Utsukushigahara Kogen

Approx. 60 minutes by car from the hotel

Norikura Kogen

*To the Norikura Kogen Tourism Center

Approx. 70 minutes by car from the hotel

Daio Wasabi Farm

Approx. 30 minutes by car from the hotel

Tateyama Kurobe Alpine Route

*To the Ogizawa municipal parking lot

Approx. 70 minutes by car from the hotel

Hakuba

Approx. 90 minutes by car from the hotel

Asama Hot Springs

Approx. 15 minutes by car from the hotel

Utsukushigahara Hot Springs

Approx. 15 minutes by car from the hotel

Jigokudani Monkey Park

Approx. 90 minutes by car from the hotel
Sightseeing by train or bus
Kamikochi

(approx. 90 minutes)

Matsumoto station
Shin-Shimashima Station
Board bus (or taxi)
Kamikochi

Tateyama Kurobe Alpine Route

(approx. 95 minutes)

Matsumoto station
Shinano-Omachi Station
Board bus
Ogizawa

Jigokudani Monkey Park

(total: approx. 130 minutes)

Matsumoto station
Nagano Station
Board bus
Disembark at Snow Monkey Park
35 minute walk
Jigokudani Monkey Park

Tsumago-juku

(approx. 80 minutes)

Matsumoto station
Nagiso Station
board taxi or bus
Tsumago-juku

*Magome-juku is an additional 30 minutes by taxi or bus from Tsumago-juku
Tourist Destinations Accessible Via Matsumoto
Takayama

(approx. 140 minutes)

Matsumoto Bus Terminal
Takayama
@ Matsumoto Hotel Kagetsu